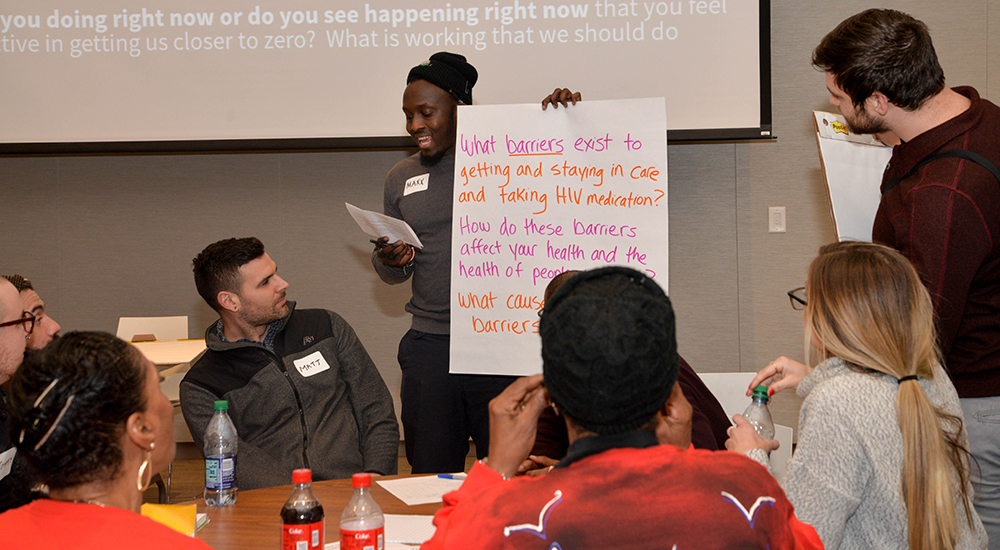 December 13, 2019
Join a GTZ-IL workgroup!
Your neighbors and colleagues are launching the first year of work in the Getting to Zero Illinois (GTZ-IL) initiative. Join them and help us end the HIV epidemic in Illinois!
After 3 years of research, community engagement events and writing, GTZ-IL coalition members this year published our state's roadmap to end the HIV epidemic in Illinois by 2030. We're now putting that plan into action by tackling key focus areas.
Our statewide plan is comprehensive and ambitious. The workgroups are where this plan comes to life and where the real changes begin!
Groups are forming now, and will officially kick off their first year of work in January. Get in on the ground floor of this cutting-edge initiative! Learn more below about what your fellow HIV community members are doing and how to join in this groundbreaking work.
Email info@gtzillinois.hiv to learn more or express your interest in being a co-chair. Join as a member by emailing existing co-chairs!
WORKGROUPS
PrEP
One of the key pillars of the GTZ-IL initiative is expanding PrEP awareness, access and use to the populations most vulnerable to HIV. Join this group to pilot new ideas and scale up what is already working with PrEP in Illinois!
Co-chairs: Candi Crause (ccrause@c-uphd.org) and Maria Pyra (MariaP@howardbrown.org)
Sexually Transmitted Infections
People vulnerable to HIV are also vulnerable to other STIs, and STIs can facilitate HIV transmission. There is a lot of overlap between these issues, but we need more collaboration and joint efforts to screen and treat people for HIV and STIs – and connect people screened for STIs to PrEP! This group will find ways to improve current STI screening programs and share best practices across the state.
Co-chairs: Valerie Johansen (VJohansen@lakecountyil.gov) and Lesli Choat (Lesli.Choat@Illinois.gov)
Reducing isolation Among Older Adults and Long-term Survivors
As the population living with HIV ages and lives longer, our sector needs to address isolation, aging and the long term affects of HIV medications. Join this group to help us meet the needs of this growing population. [RF2]
Co-chairs: Jessica Barnes-Mattox (jessica.barnesmattox@cookcountyhhs.org) and Jeff Barry (j.berry@tpan.com)
Rapid Start for HIV Medication and PrEP
Many clients would benefit from the opportunity to start medication – whether treatment or PrEP – on the same day they learn their HIV status. This group will work to break down barriers for clinics and organizations looking to make same-day start seamless for their clients.
Co-chairs: TBD – it could be you!
Routinizing HIV Screening in Medical Settings
The CDC recommends everyone between the ages of 13 and 64 get tested for HIV at least once as part of routine health care, and more often for people in vulnerable populations. Join this group to tackle stigma around HIV testing and make HIV screening a standard part of health and wellness care.
Co-chairs: Nancy Glick (nancy.glick@sinai.org), Dave Pitrak (dpitrak@medicine.bsd.uchicago.edu) and Janet Lin (JLin7@UIC.edu)
Standards of Equity
GTZ-IL wants to help ensure priority communities have access to culturally, linguistically and medically appropriate care and supportive services. This workgroup will work toward that by helping organizations offer respectful services and providing accountability mechanisms for communities that deserve culturally appropriate care.
Co-chairs: Jolie Holliman (jholliman@centeronhalsted.org) and one vacancy – it could be you!
Communications
As a statewide project, communication about our mission, activities and progress is key. Join this group to help create social media content, blog posts, organize press events, create GTZ-branded materials and GTZ-related experiences for Pride and World AIDS Day.
Co-chairs: Brian Solem (bsolem@aidschicago.org) and DeVante Harris (harris.dj23@yahoo.com) and one vacancy!
Research, Evaluation and Data
This committee is dedicated to preparing a framework to monitor and evaluate the success of the plan, and establish estimates of the increase in viral suppression and PrEP needed to achieve GTZ goals. Join this committee to help establish baseline data and metrics to evaluate GTZ goals and help integrate implementation science into our GTZ activities!
Co-chairs: Gregory Phillips (Glp2@northwestern.edu), Nanette Benbow (nanette@northwestern.edu) and John Schneider (jschnei1@medicine.bsd.uchicago.edu)