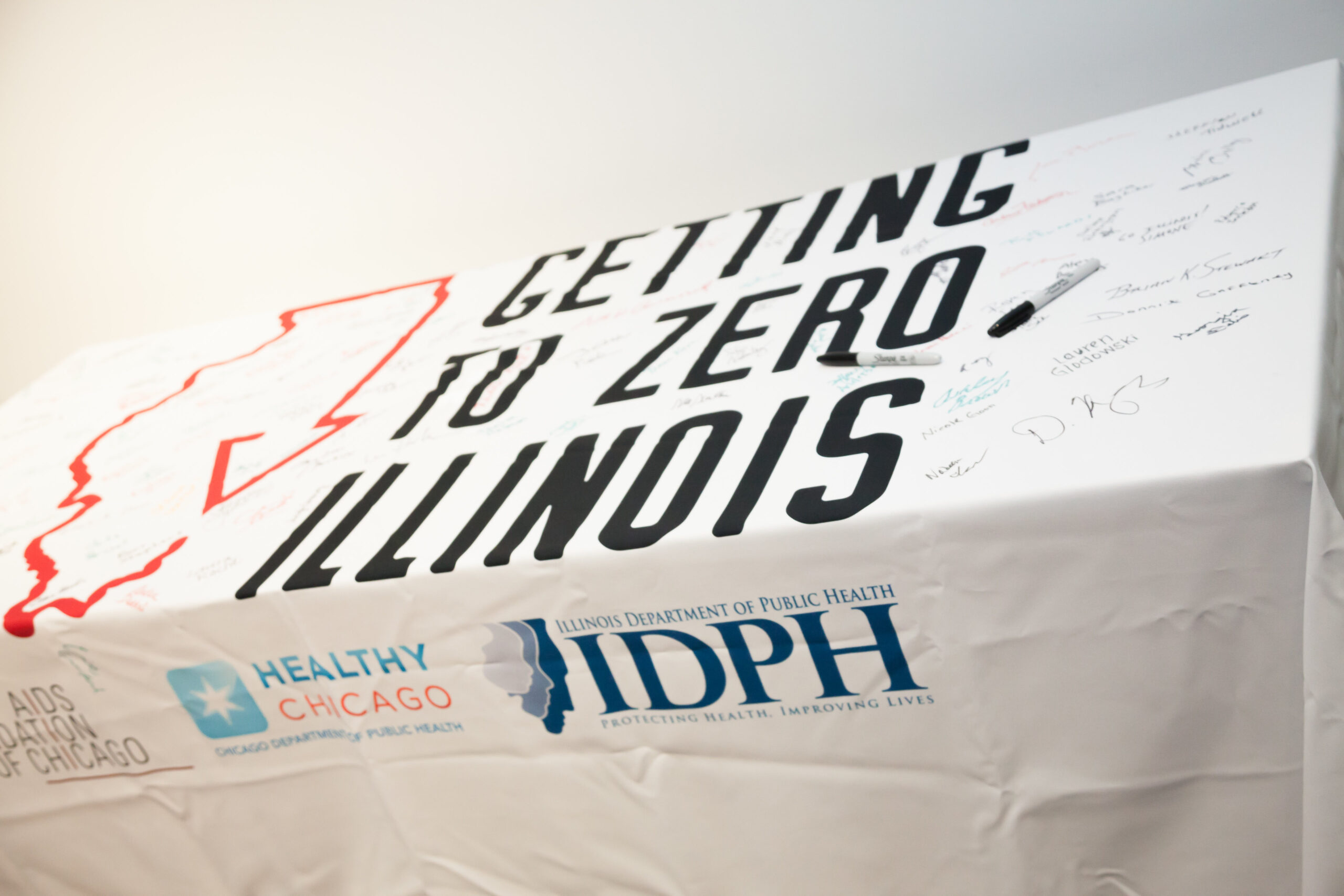 November 30, 2020
Sharing the End of the Epidemic Together
Two years ago on World AIDS Day, leaders across the state ushered in the introduction of the Getting to Zero IL (GTZ-IL) Plan at the DuSable Museum. The bold plan promised to achieve zero new HIV transmissions in the state and end the epidemic by 2030. To do so, the plan centered the way the HIV sector has always done this work in Illinois: together, sharing services, connections to care, resources and best practices that equips all regions to help people living with HIV thrive and prevent new transmissions.
It is fitting that the community come together again this World AIDS Day in 2020 when more than ever there is a sense of urgency to unite and build on the strategies and goals set in the GTZ-IL plan. We must share the responsibility of ending the epidemic together, and since that is the theme of this year's World AIDS Day campaign, we'd like to ask each of person, organization and advocate to make a pledge to share the responsibility.
What does it mean to share the responsibility?
Inherently, an HIV/AIDS organization's goal is to design their programs to provide the most comprehensive services to the community they serve. Moving forward, to share the responsibility means we must make sure as organizations we communicate these inherent goals by creating shared partnerships, because the location of a patient's need for care shouldn't mean they receive lack of care. When organizations share the resources, we are sharing in the responsibility of care.
So, luckily as we've said earlier — many of us aren't new to this work. Service providers across the state coordinate to provide HIV prevention, including PrEP services. Peer Educators and Community Health workers work in the field to explain to new patients and providers that having an undetectable viral load means you cannot transmit HIV to another person (Undetectable = Untransmittable, or U=U). The HIV sector also works together to ensure the workforce has relevant training to address the needs of people living with HIV.
The collaboration enables us to share responsibility, and it is necessary to continue to do so with a focus on the communities most impacted. Getting to zero in 2030 is the intended goal but we understand that too often the goal line is move further away for some more than others like people of color, especially our Black siblings and transwomen of color. So, this shared responsibility of the GTZ-IL plan is to not stop working towards our strategies and goals until we get to zero new HIV infections for ALL groups!
How can you make the pledge to share the responsibility this World AIDS Day?
Update your organizations' social media platforms that (insert organization name) "shares the responsibility with HIV/AIDS care organizations and others as allies across the globe of Getting to Zero. We stand in solidarity because leaving anyone behind is NOT how anyone succeeds – so, this World AIDS Day let us demand global solidarity and share the responsibility!" on Tuesday, Dec. 1.
What's at stake?
Our task is daunting! 2020 brought not only another unpredictable virus but transparency of disparities and challenges in our health systems. We must continue to share in the responsibilities, progress, setbacks and achievements until we can share in the end of the HIV epidemic together. #Sharedresponsibility2020 #gtzIL2030
Crystal L Winston Is the Regional Peer Development and Community Testing Manager at Cook County Health HIV Integrated Programs "CCHIP" RMR CORE Center. She has worked in HIV/AIDS Public Health for 18 years in several roles from prevention research, health education and management. She is dedicated to the HIV/AIDS community as an advocate/ally both professionally and personally.
Bailey Williams is the Communications Specialist at AIDS Foundation Chicago. She manages both Getting to Zero Illinois's blog and AFC's blog Inside Story, contributing written stories, editing and more. She has advocated and raised money for the HIV sector since 2015.