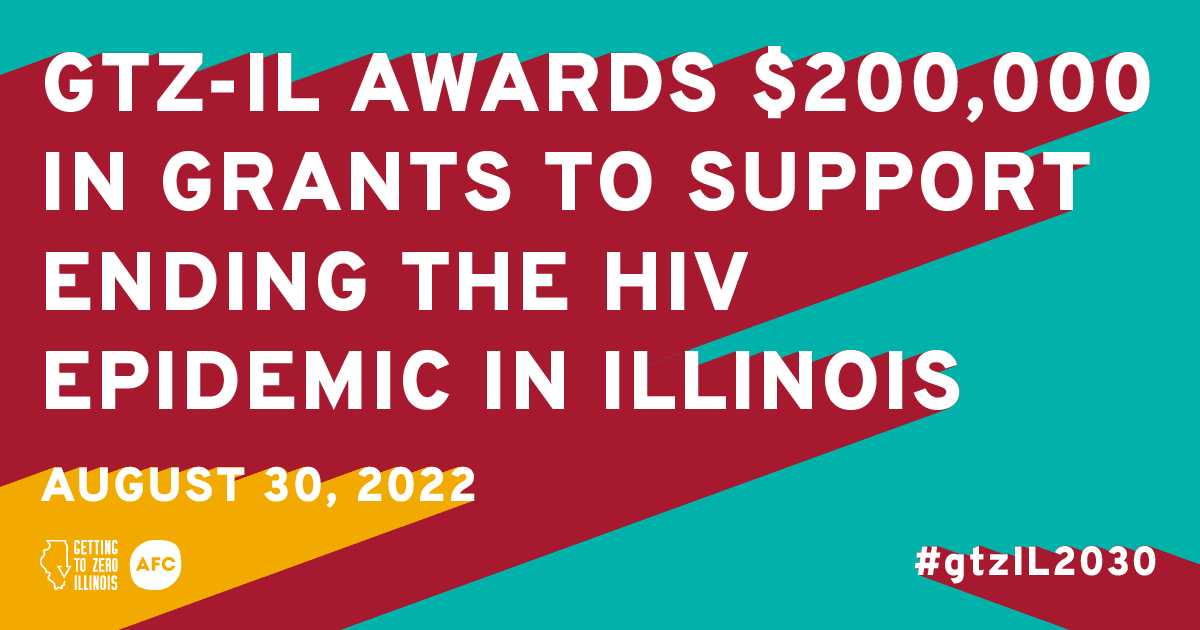 August 30, 2022
GTZ-IL awards $200,000 in grants to support ending the HIV epidemic in Illinois 
This month, Getting to Zero Illinois (GTZ-IL) and AIDS Foundation Chicago (AFC) awarded $200,000 to community-based organizations implementing strategies to end the HIV epidemic by 2030. The pool of grants will support goals and alignment with the statewide plan. Each organization will receive an award from $20,000-$40,000 in addition to workforce training and technical assistance. Six of the seven organizations that received funding are Black- or Latino/a/e/x-led, which demonstrates GTZ-IL and AFC's commitment to racial equity.
"Through the GTZ-IL Community Grants, we are supporting the leadership of Black and Latinx individuals at the helm of these vital organizations," said Christian Castro, Senior Manager of Getting to Zero Illinois. "Technical assistance will be implemented in community settings while working in coalition to ensure we meet the goals of eliminating new HIV transmissions, increasing access to PrEP and quality care for people living with HIV."
In May 2022, GTZ-IL and AFC issued its second RFP based on strategies outlined in the Getting to Zero plan. Community-based organizations and coalition partners were invited to apply for a pool of grants ranging from $20,000 to $40,000. The review panel, composed of members from GTZ-IL community advisory boards and AFC leaders, reviewed a competitive round of applications while centering racial equity in its selection process.
"We made it our priority to continue the support of Black and Latinx-led organizations in addition to the organization that serves the most vulnerable communities," said Dr. Cynthia Tucker, Senior Vice of Community Partnerships and Special Projects. "These programs have historically seen limited resource funding, so cycle 2 is an investment in organizations that need it the most as we look toward the future of HIV."
Seven organizations were selected with strategies that address PrEP uptake, wrap-around services implementation, and continued partnerships that address health and race equity. Seven of the 14 organizations awarded in cycle 1, like the Lighthouse Foundation, were amongst the awarded proposals.
"Lighthouse Foundation is proud to receive support from GTZ-IL cycle 2 to build upon the progress supported by Cycle 1 GTZ IL funding of the Black Queer Equity Index (BQEI) – our signature racial equity initiative in consultation with the Northwestern EDIT Program," said Jamie Frazier, Executive Director of Lighthouse Foundation."The BQEI improves the health of Black LGBTQ+ communities in Chicago through employer-based assessment and intervention. We target the workplace marginalization of Black LGBTQ+ people in the nonprofit sector as a social determinant of health, positioning employment as a key predictor of healthcare access and engagement."
When the GTZ-IL grantmaking program launched in Spring 2021, AFC and GTZ-IL undertook the responsibility to bring visibility and resources to communities outside Chicago region. Of the 2022 grantees, five of the seven organizations operate in underserved communities like Far Southside of Chicago, East St. Louis and Southern Cook Country.
"The GTZ funding is important for Corazón Community Services because this grant will give us resources to overcome some of the challenges we face in reaching our goal to getting to zero by expanding our outreach strategies to educate and raise awareness of the testing resources and education opportunities offered in the community," said Vanessa Melgoza, Executive Director of Corazón Community Services. "Cicero has one of the highest rates of STIs in all of Cook County for people between the ages of 15 and 25, and we will be addressing a critical public health risk. This project will thus better equip us to reach individuals who are not aware of their status and link them with the care they need."
Join us in celebrating the 2022 recipients of the GTZ-IL Community Grants Cycle 2 and their program listed below.
"As we continue to make critical steps and investments in the future of HIV, thank you for the generous support from Alphawood Foundation, Comer Family Foundation, Pritzker Community Health Initiative, Walgreens and individual donors who fuel our path to zero," said John Peller, AFC President/CEO. "We are grateful to the AFC staff and community members who offered their time and expertise in selecting cycle two grantees Thank you to GTZ-IL Community Advisory board member Lee Gonzalez, AFC Senior Vice President Dr. Cynthia Tucker, Vice President of Care, Bashirat Olayanju, and Michelle Blau, Director for Program Development for continuing our commitment to racial equity." 
2022 Cycle 2 Getting to Zero Illinois Grant Recipients
Organizations
Location
Project

Christian Community
Health Center

Far Southside Chicago

Continuation of Medical Legal Partnership with Legal Council for Health Justice for people living with HIV/AIDS (PLWHA), CCHC housing clients, and paroled behavioral health clients.

Community Wellness Project (CWP)

East St. Louis

Black/African American transgender women will be recruited for participation in CWPs Superheroes Program/TWIST Intervention and Black/African American cisgender women will be recruited to participate in the CWPs Brown Girls Brunch Sex Education and HIV 101 Education series.

Care2Prevent

Southside Chicago

Expand the Peer Mentorship Program for PLWHA and continue with individuals who are on PrEP.

Corazón Community Services

Cicero/Berwyn

Expand the HIV counseling, treatment, and referral services such as linkage to PrEP, partner services, housing, insurance and more provided to the Latinx MSM and High-Risk Heterosexuals (HRH).

Proactive Community Services

Southern Cook County

Continue their Thursday Night Talks via webinars for those serving vulnerable populations (MSM/SGL) and host a two-day conference on Collaboration, Advocacy and Networking.

Lighthouse Foundation

Northside Chicago

Collaboration with the Northwestern EDIT Program to evaluate the processes used to create and administer the 2021 Black Queer Equity Index (BQEI) protocols, interviews, and focus groups.

Medical Organization for Latino Advancement (MOLA)

Chicago

Create a robust and comprehensive mentorship curriculum, which combines both El Nido and the Mentorship programs for medical and community health professionals.
About Getting to Zero Illinois: Getting to Zero Illinois is a statewide initiative to end the HIV epidemic in the state by 2030. Through partnerships with people living with HIV, community-based organizations, health care providers, government agencies and others, we can dramatically shift HIV transmissions and access to care in Illinois. AIDS Foundation Chicago and the Illinois and Chicago Departments of Public Health coordinate the Getting to Zero Illinois project. To read the full Getting to Zero Illinois plan, click here. To sign up for AFC and Getting to Zero Illinois updates, click here.