PLAN DEVELOPMENT PROCESS
JULY 2016 – FEBRUARY 2019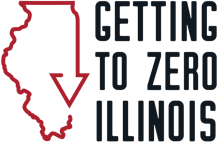 JULY 2016: A small group of people living with HIV, advocates, researchers, service providers and government officials met to explore a plan to dramatically impact the course of the HIV epidemic in Illinois.
FALL 2016: The group drafted a framework for the Getting to Zero Illinois (GTZ-IL) plan.
WINTER – SPRING 2017: GTZ-IL planning group members presented the drafted framework and concept to community groups to build momentum and gather feedback.
SUMMER 2017: Taking into account initial community feedback, the GTZ-IL planning group finalized the framework was finalized with the help of the Community Engagement Committee.
SEPTEMBER 2017: The GTZ-IL planning group released the framework to the public.
DECEMBER 2017 – JANUARY 2018: The GTZ-IL planning group gathered input from over 300 paper and online surveys from community members and from 9 town halls throughout the state.
FEBRUARY 2018 – MARCH 2018: In collaboration with community partners, GTZ-IL planning group members hosted focus groups in specific communities impacted by HIV, including young gay and bisexual men of color and mothers living with HIV.
MARCH – MAY 2018: Data committee members analyzed community input from surveys, town halls and focus groups so committees could take this data into account when drafting the plan.
JUNE 20, 2018: Getting to Zero Illinois planning process kick-off!
WHAT'S NEXT?
JUNE 2018 – SEPTEMBER 2018: Committees will meet to create their recommendations to be included in the Getting to Zero Illinois plan.
OCTOBER 2018 – NOVEMBER 2018: The GTZ-IL planning group will refine and edit the first draft of the plan.
DECEMBER 2018: GTZ-IL will release the plan for community input and feedback.
JANUARY – FEBRUARY 2019: The GTZ-IL committees will adjust the plan based on community feedback, finalize and then release the plan to be implemented across the state.