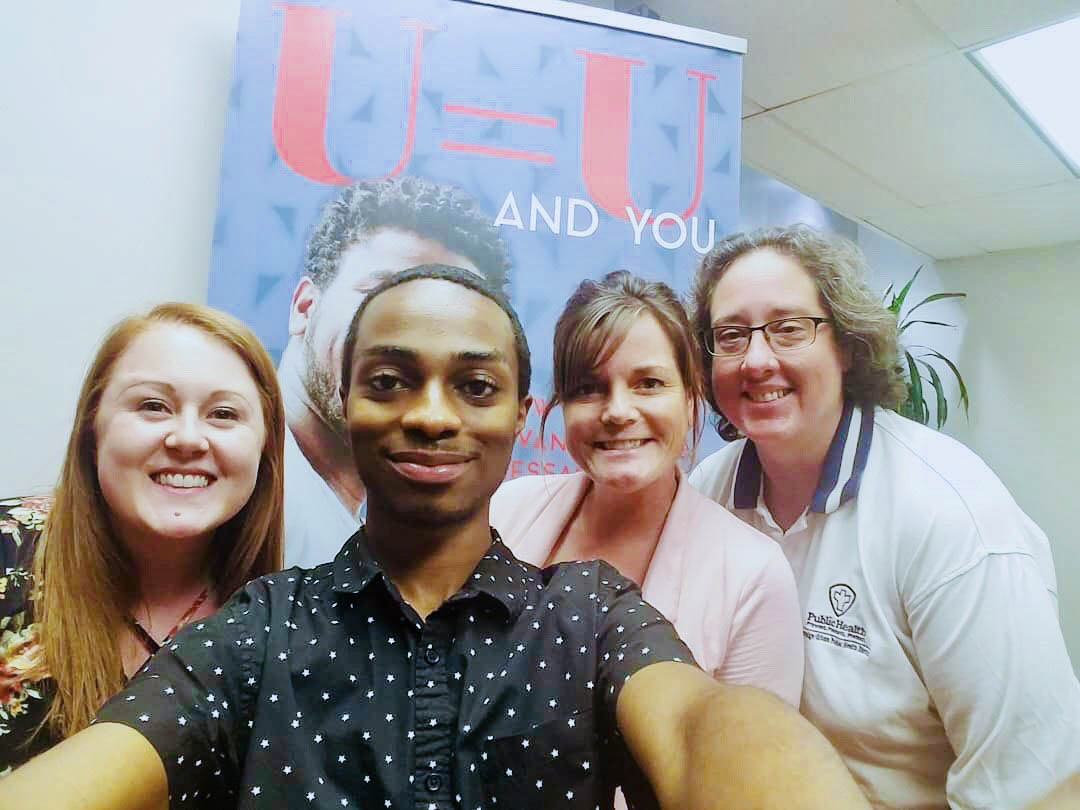 October 25, 2018
U = U: Can you hear me now?
From 2002-2011, "Can you hear me now?" was asked across the nation thanks to a catchy Verizon ad, but the U=U and YOU! conference asked that same question Aug. 16, 2018. Held at Rush University in downtown Chicago, the conference took the time to acknowledge the advocacy and research that went into the successful, international U=U campaign while emphasizing the simple U=U message, "undetectable = untransmittable." That means people living with HIV who are on antiretroviral treatment are not capable of transmitting HIV to their HIV-negative partners.
The U=U campaign started early 2016 and currently holds strong in 93 countries, over 720 organizations and has been translated in over 35 languages. Even with that level of success, the conference had an underling theme behind the celebration – how can we ensure the message of U=U is being received by the people who need to hear it the most?
"It's time to redefine what it means to live with HIV."
Bruce Richman, executive director of the Prevention Access Campaign, started the conference with explaining the importance of U=U in our communities:
Transforms social, sexual, & reproductive lives
Destroys HIV stigma: personal, community, clinical and policy
Encourages testing, uptake, adherence and engagement in care
Provides a strong public health argument for universal access
Brings us closer to ending the epidemic
During his talk, Richman expressed how knowing the message is important but the work behind getting the message out is even more important. Like with any campaign or news, the message dies if it isn't spread around. Richman stated that no matter if you're a policy maker, health professional or a community advocate, the message needs to be consistent and clear across the board. This ensures individuals are receiving accurate information, which increases the confidence with adherence and engaging in care. He also added that we should be cautious of the way we're wording information. For example, "no risk, can't pass it on, prevents HIV" is more effective than "almost no risk, nearly impossible, helps prevent HIV." Regardless of where the campaign is heard or what language it's received in, the message needs to stay the same.
"Science doesn't have a publicist…How do YOU say U=U?"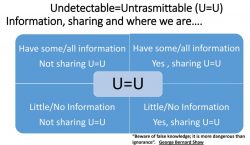 Dr. Toyin Adeyemi, senior director for HIV services through CCHHS, took the conference in the direction of looking at U=U through science and advocacy in clinical practice. She noted that one of the first steps in this epidemic journey is "have you been tested?" But in the same breath education should be provided like a follow up question: "Did you know that a person with HIV who maintains an undetectable viral load for at least 6 months following their prescribed medication routine CANNOT transmit HIV to the sexual partners, even without condoms?" Dr. Adeyemi broke down U=U and information sharing into four quadrants based from a survey she sent out to health care providers. Her goal was to analyze the amount of information they had about U=U and whether that information was being shared (see chart).
From Dr. Adeyemi's survey results, she discovered that health professionals crave more information about HIV care and how to properly convey the information. Data was dissected to show how the more people are linked to HIV treatment and prevention, the more HIV/AIDS rates diminish. However, as HIV rates decline, Dr. Adeyemi points out, there are things to keep in mind to avoid possible threats to the U=U movement:
Avoid stigmatizing or discriminating against those who are unable to achieve or maintain viral suppression
Make sure we can reimburse more frequent viral load measurements/streamline the process of testing when people request testing
Proactively minimize treatment interruptions due to coverage issues/provide stop-gaps (Medicaid, ADAP, co-pays, etc.)
Actively advocate for policy changes to improve continuity of services and address social determinants of health
Active/enhanced STI screening
Fear of criminalization
Listen to community feedback — "perception/real/myth/fact/rumor/internet" — and be open to those honest discussions
"Our job is to deliver accurate information in a non-judgmental manner and allow people to make their own decisions while supporting them the best way we can."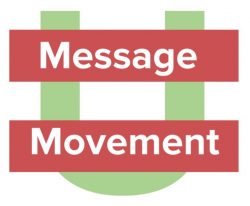 Noel Green, U4U Manager at
Center on Halsted
, concluded the conference with tying all the presented information to the big picture – Getting to Zero. As we are on our way to ending the HIV epidemic by 2030, U=U pushes us even closer to that goal. People have expressed that U=U has helped them become more informed, given the ability to love again, shattered stigmas, ended fears, given acceptance and, most of all, given hope.
"The impact of this messaging improves health outcomes for PLWHIV."