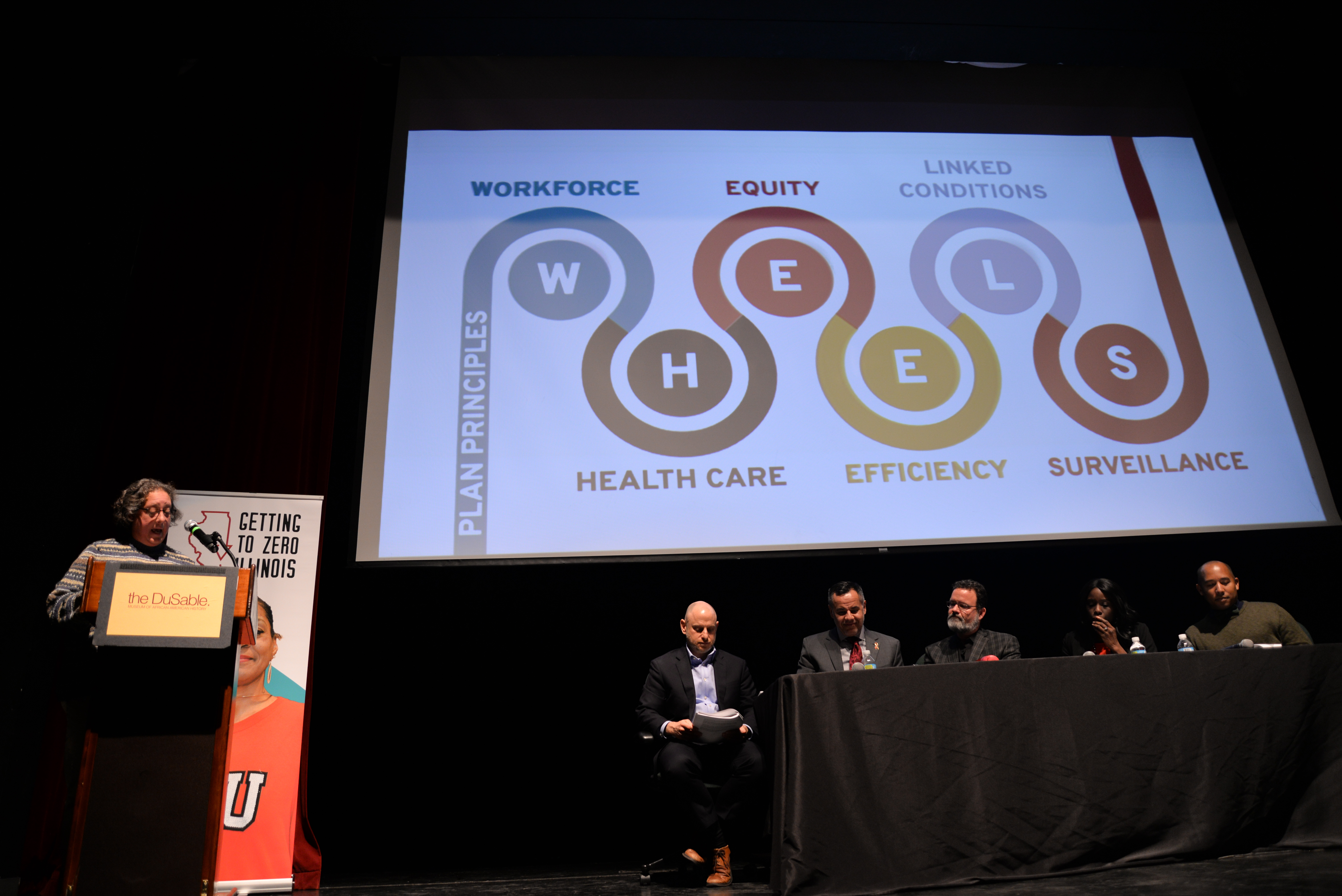 December 21, 2018
The draft plan is live!
The Getting to Zero Illinois (GTZ-IL) draft plan was released on Dec. 3 and is now in the process of receiving community feedback through Jan. 18. The 28-page document is organized into six key domains, initialed and spelled out as the acronym 'WHEELS', which highlight the focus areas of GTZ-IL:
Workforce development: Foster new approaches and adapt to evolving needs.
Health care: Improve quality of and access to care and supportive services, including housing, for people living with HIV and AIDS.
Equity: End health disparities associated with race, ethnicity, sexual and gender identity, age, residency, status, and lived experiences.
Efficiency: Coordinate activities to expand the reach of necessary services and strengthen the HIV service delivery system.
Linked conditions: Increase access to treatment for mental health, substance use, STIs and viral hepatitis.
Surveillance: Improve data gathering, sharing and exploration to benefit systems of care.
Within each of these domains in the draft plan a number of goals, strategies and potential action steps are outlined that will help Illinois end the HIV epidemic throughout the state. Candi Crause, director of adult services at Champaign-Urbana Public Health District and member of the GTZ-IL steering committee, has worked for months with other steering committee members to develop this first version of the GTZ-IL plan, taking into account the input from community town halls, surveys and surveillance data on the HIV epidemic in Illinois. Crause is excited to see how the community will respond to this first version of the plan and hopes to get as many eyes on it as possible.
"The biggest thing that I have seen when discussing this plan with colleagues around the state is the new life and energy GTZ-IL infuses into our conversations," said Crause. "People are excited to see this plan and excited to discuss the potential of Illinois reaching 'virtual zero' in the very near future. It gives us a new framework to see how what we are doing every day will lead to the end of this epidemic."
While the plan is not designed to provide a step-by-step process, it provides a shift in focus to all of the work that is already being done across the state in order to get everyone keyed in on the same goals. It aligns all the work already being done to help Illinoisans thrive, while providing opportunities to develop new initiatives around eliminating stigma, undoing racist systems and so much more.
To learn more about the GTZ-IL draft plan, visit gtzillinois.hiv/draft.